MARCEL WANDERS: THE ROMANTIC SIDE OF CERAMICS
Dutch designer Marcel Wanders enriches his The New Classic collection with three new decors that emphasise the materiality of ceramics. Also part of the exhibition: Wanders' very special Falconnier Chandelier, a unique piece of art made with glass bricks and Saphirkeramik as a tribute to 19th century architect Gustave Falconnier, inventor of the famous "briques de verre".
Dutch designer Marcel Wanders is representing the romantic note of ceramics in this year's LAUFEN space collection.
A long relationship links LAUFEN and the designer for many years. So it was only natural that Wanders was invited by the Swiss brand to enrich his award winning The New Classic – a collection which is known for its soft poetic and sinuous shapes that were first made possible by LAUFEN's innovative, ultra-thin and resistant ceramic material Saphirkeramik.
Now, five years after the launch of the collection, in revising the series for this year's space collection, Wanders has added three new decorative patterns for the washbasins which perfectly play with the materiality of ceramics. Each of the three décor motifs represents a unique style and a special design philosophy: Cosmopolitan, Bohemian and Ornamental.
Cosmopolitan embodies an architectural and sophisticated approach. Its subtle and universal design makes it a perfect fit for modern and metropolitan spaces. The Bohemian pattern, on the other hand, is characterized by a hand-made feeling and natural essence. It offers a more experimental and casual style that suits those who prefer simplicity and a more rustic touch. The Ornamental pattern is a blend of eclectic and traditional elements, with a refined and detailed design. It is perfect for those who appreciate beauty in the details and prefer a classic and elegant style.
The new interpretation of the innovative Saphirkeramik is as delicate as it is technically refined: a bas-relief where architecture and nature perfectly intertwine.
"If you think surface is superficial, then your eyes have proved that your brain doesn't work", concludes Marcel Wanders, who is more than aware of the importance of poetic language in today's living spaces.
 

FALCONNIER CHANDELIER
a tribute to a Swiss architect and inventor
Another showpiece of Marcel Wanders in the installation entitled "How dare you" is the impressive Falconnier Chandelier, a unique piece of art made with original glass bricks and bricks produced in LAUFEN's Saphirkeramik as a tribute to 19th century Swiss architect Gustave Falconnier. Falconnier invented a technique for producing the famous "briques de verre", glass blocks that were widely used in architecture.
"The chandelier is a work of art, with each piece carefully floating to create a stunning display of light", Marcel Wanders explains. "With a light stripe around the glass bricks and light coming from the canopy, one must experience the warm and welcoming glow. The chandelier serves as a reminder of the beauty that surrounds us".
With eight pendants made of Falconnier glass and eleven moulded of LAUFEN's ultra-thin Saphirkeramik – with three shades of blue and one shade of white - this chandelier perfectly expresses the history of design as an everlasting, indestructible and renewable concept.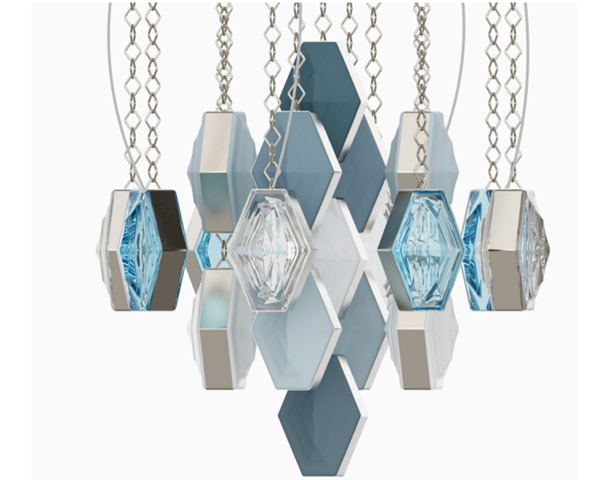 "How dare you" offers a journey through different scenarios, emerged from LAUFEN's constant collaboration with various design, architecture and art experts in order to find new answers for the most unique bathroom.
LAUFEN's space collection will be available on request through the LAUFEN spaces in Berlin, Vienna, Madrid, Prague, Miami, Laufen and Milan as well as at selected retailers.
 
Exhibition registration:
www.laufen.com/salone-del-mobile-2023-registration